This game is for adults and is great for a group night out or other special occasion. The primary equipment is just your phone. It was play tested with a 4 teams of 5, ages 25 to 50.
Time: 2 hrs

* Phone

* printed clue letters

Optional – gold necklaces, gold decorations and prizes
How do you host a fool proof puzzle party hunt for marginally committed, slightly lazy and definitely distracted grown-ups? Something complicated and creative enough to hold their interest, but easy enough to set up so that you don't feel too upset if they don't 'get it'. On March 16, 2015 I ran a game for a group of friends in Washington DC and I wanted to share how I put this together because it is easy replicable. The basic mechanic was 'visit all the places', but I added in some chaotic competitive elements and as much mystery as possible.
Playing
The game was presented as an initiation for the illustrious and mysterious "Aurum Society" (no relation to the Ponzi scheme of the same name, really not sure how I missed that in my research). Aurum is latin for gold and the game centered around collecting gold, virtual and real, by following clues.
The Invitation
Players were invited by email (Paperless Post to make it more fancy and official) to join the "Aurum Society" and go through the "Trial" to prove their mettle. I actually might have been too mysterious in my invitation because several people thought it was a scam of some kind! It is a fine line between scam and mystery. I sent a follow up email with only vital information about the time period to plan for, appropriate clothing suggestions and everything else I could tell them to make sure they would be comfortable. If there was anything I didn't have to tell them, even small harmless details, I didn't – because it always fun to guess rather than know.
The First Clue
On the day of the game, I sent an email with two numbers in it and instructions to "Be polite to the sprite". These were the latitude and longitude for the starting location, which was a pocket park near where all the players worked in DC (Connecticut and M St NW, if you know the area).
When players found their way to the park during the specified time range, there was a little girl dressed as a fairy. I had enlisted the help of a coworker and her adorable 4 year old daughter to be my "sprite". My sprite gave them a gold paper carnation to pin in their lapel to identify them to other players, a gold necklace (their first bit of booty) and a fancy letter. I tried to stay out of sight, but did end up coming out to help facilitate the start of the game.
The Letter
In the top left you can see what the letter looked like folded. The first thing you see upon opening it is a quote from Christopher Columbus about how great gold is. Then you open it up further to see a letter with instructions on the left and list of rules on the right. Unfolding one level further to reveals 5 clues.
The instructions tell the players to find at least 4 team mates and to send a picture of their team with their team name to the Gamekeeper – me. Whoever sends this picture is the designated contact and will be sending all the clue solutions and receiving any additional clues. This is how the Gamekeeper keeps track of how the game is progressing and controls information – through texts with the various official team contacts. The next step is for the teams to decipher the clues in the letter – they can take whatever approach they want. They are explicitly told they are allowed to Google.
Each of the clues would lead to a statue within a 10 or 20 minute walk of the starting point, but I did not specify that they should be looking for statues. The clues are dictated by the history of the statue but I think the type of the puzzles could be easily adapted to any statue.
The Clues

Clue 1: A part of a poem by Henry Longfellow – could be anything, a quote or piece of writing by the statue person. It just needs to be unique enough that it couldn't be attributed to anyone else. Make sure by Googling it yourself.

Clue 2: A picture of golden retriever doing a warrior yoga position – Picture puzzles can come in many forms, this clue was referring to a statue called the Golden Warrior outside the Kazakhstan Embassy. A more complicated statue could be represented by several pictures.

Clue 3: A matching puzzle of sickness and their funny cures – the lines cross through letters spelling a name. A matching puzzle could be made with any theme depending on the statue and then have the letters spell the name of the statue.

Clue 4: Two truths and a lie about a person. By researching the facts they learn some interesting facts and figure out the statue.

Clue 5: An anagram of a name created using this website. 

Putting it all together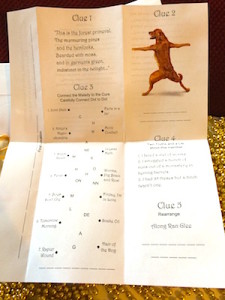 At first, I used the open source ARIS game system – but as the date drew nearer I was worried about the recently updated system's performance and didn't want my friends stranded by tech, so I opted for a much simpler – but I think much more flexible and reusable format based on sending and receiving pictures with my phone.
When teams had solved a clue, they had to go to the statue's location and take a picture with the statue to prove they found it. The official team contact sends the picture to the Gamekeeper by text and then the Gamekeeper sends back a picture clue for the final party location. Once the team has found all the statues and received all the picture clues they should be able to figure out the final location. I also added two none final location clues that directed people to two bars along the way where they needed to take a picture of at least one person drinking to get another final location clue. At the final location I had a bunch gold necklaces, a couple gold decorations on the table and a poster where I had been keeping track of the 'gold' earned by each team.
Overall, it worked really well, was fairly easy to set up and run.
The Final Puzzle
The final location picture clues are below in no particular order – can you figure it out?